Interbran -
perlite interior insulating plaster 070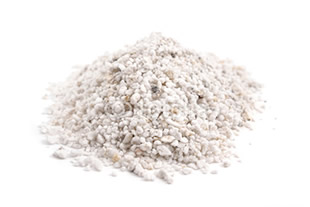 What is perlite and how is it used?
Perlite is a naturally-occurring volcanic rock. When exposed to high levels of heat, perlite expands to up to twenty times its original volume. The resulting perlite is added is a lightweight aggregate to pure mineral lime cement plaster.
Interbran perlite interior insulating plaster 070 is a purely mineral lime cement light plaster in mortar group CS II according to EN 998-1, with perlite as a light aggregate. Its outstanding characteristics make for a healthy, comfortable room temperature and also improves the insulation from the inside by W/m·K
Therefore the Interbran perlite interior insulating plaster 070 is an important element in meeting current energy saving criteria according to EnEV2016 and others.
Everyone needs interior plaster. Particularly if it fulfils several functions at once.
The most important qualities

High thermal conductivity class 0.07 W/mK
Pure mineral perlite lightweight plaster
Fire protection classification A1 (1,200°C)
Water vapour diffusion
High mechanical durability
Easy and simple to process
Especially easy and simple to process as it is 6x lighter
Lasting durability
Ecological aspects
Healthy indoor air, no odours and regulated high humidity peaks indoors
Pleasant room temperature: warmer and consistent surface temperatures, ideally suited for humans.
Resistant to mildew (pH value 11-13)
Controls moisture and is capillary active
Compostable and recyclable
Free from biocides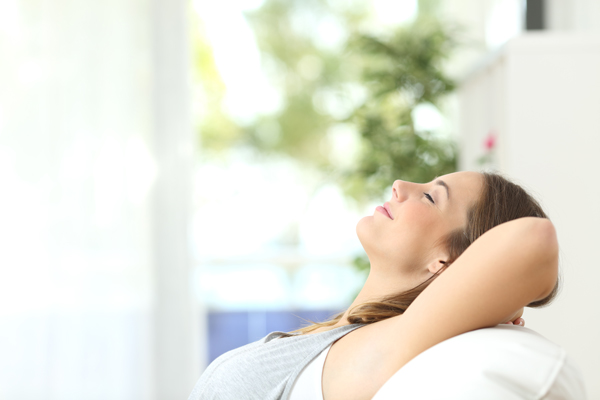 EFFECTIVE INSULATION, EVEN FROM THE INSIDE
Insulation is a key part of healthy living at home. The thermal conductivity of Interbran perlite interior insulating plaster 0.070 is 0.70 m/WK. In addition to all the other positive aspects, this insulating plaster therefore also has excellent insulation performance. The savings that can be made during cleaning or building afresh by using interior insulation mean that savings can also be made on insulating the outside.
Technische Daten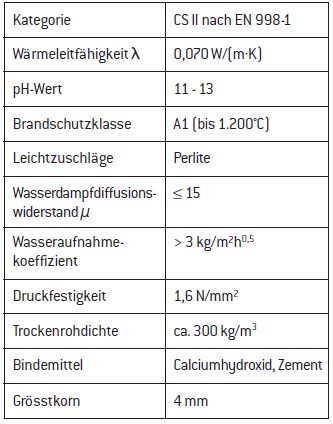 Slim wall construction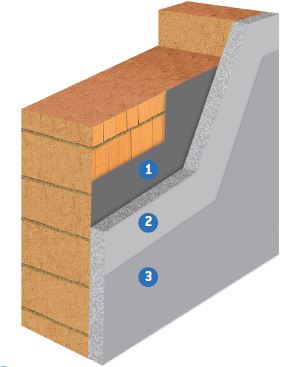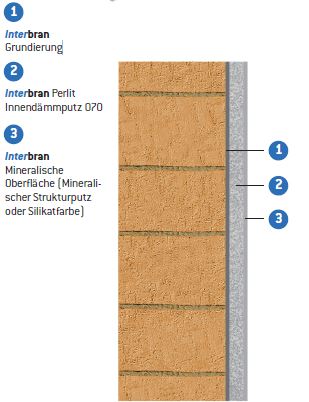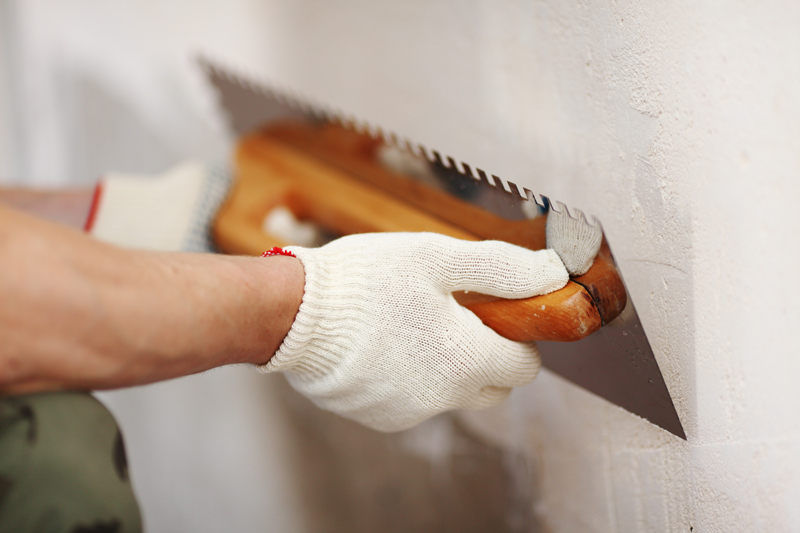 VARIETY OF SURFACE DESIGNS
JDepending on the processing and application of the Interbran 070 plaster, even when a smooth surface, all commonplace wall coverings of all quality standards (Q1-Q4) can be spread over perlite plaster.
In order to preserve the breathable quality of the plaster, Interbran recommends the use of mineral-based surface products for the surface design, such as silicate paint, silicate emulsion paint or silicate plaster.
EASY TO PROCESS
Due to its light weight Interbran perlite interior insulating plaster 070 is up to 6x lighter than conventional lime cement plaster and is therefore very easy to process. Experience has shown that the processing time is much shorter, saving up to 35% of the normal time.
A lime cement light plaster which can do some much more:
Proven for decades and recommended by architects: Lime cement plaster with positive, healthy properties. Interbran has now significantly expanded these properties. The perlite in Interbran perlite interior insulating plaster 070 ensures more efficient insulation. Perlite is the substance which deals with moisture and heat like no other.
BUILD QUICKLY AND SAFELY
Nowadays, new buildings have to be finished even quicker. Building moisture can then quickly lead to mould problems. With Interbran perlite interior insulating plaster 070, you are definitely on the safe side: And through a combination of a silicate plaster, a silicate paint or a silicate emulsion paint and their resistant alkaline properties (pH of up to 14) for the final layer, your room will be permanently protected against mould.
THIN WALL STRUCTURES AND BETTER INSULATION
You can save yourself having to insulate outside by insulating inside with the plaster when renovating or building. That means thin wall constructions and therefore more floor space. All the important criteria to meet the current energy saving EnEV2016 regulations.